Cube 170
What do you value in housing?
Our starting point was a home where we could stay for a long time, and because of that we wanted to use building materials that are durable – such as wood, stone and glass. For us, home means more than the walls around us. Is is a place where we can relax together and enjoy our life every day of the year.
How did the planning process go?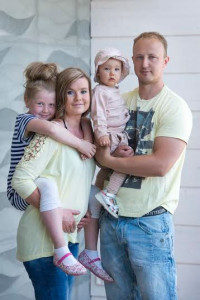 It took almost two years to design the house. Every single detail has been carefully crafted out for us. We also took time to hone the floor plan to perfection, and so the idea for CUBE 170 was born. It is a home for a family with two kids, compact, and takes into consideration all our individual needs. All in all, we think that well planned is half done.
How did you end up choosing Polar Life Haus?
Our values were similar and we liked their philosophy about building. We wanted an invidually designed home just for us. Wood is a timeless and warm materials, and this house combines it with modern design and top level know-how. In the early stages of our project, we browsed the Internet for modern wooden homes, and the Cube Collection by Polar Life Haus struck a chord. Big windows, design and a simple floor plan spoke to us. We were also very impressed by the size of the bedrooms and their big windows.
How happy are you with your house?
When you build your home by yourself, you need to know about a myriad of things. For us, this was the perfect way to do it, and Polar Life Haus was just the right partner. You rarely meet people who are so dedicated to their work and have such a warm heart.
Emilia, Jarkko and boys